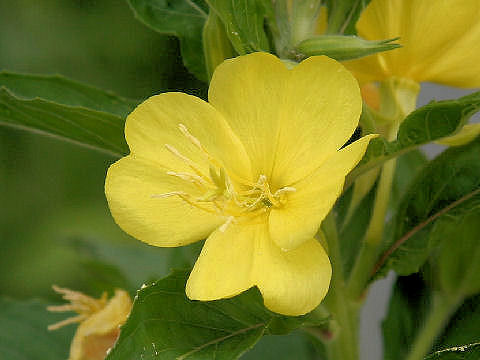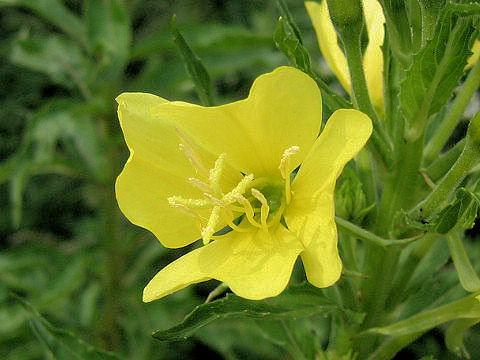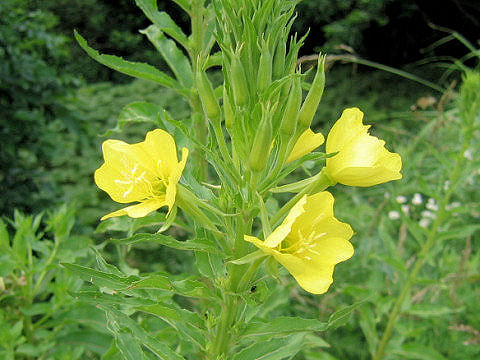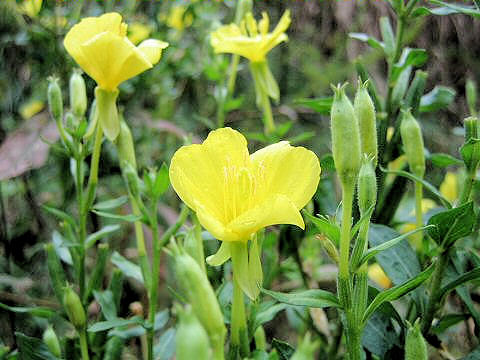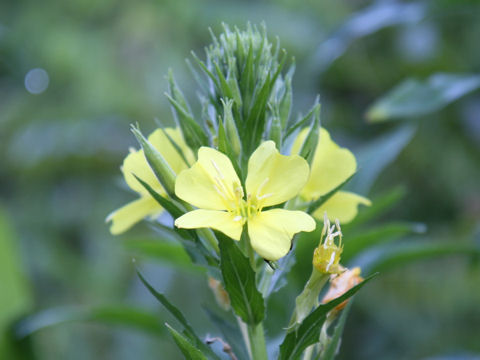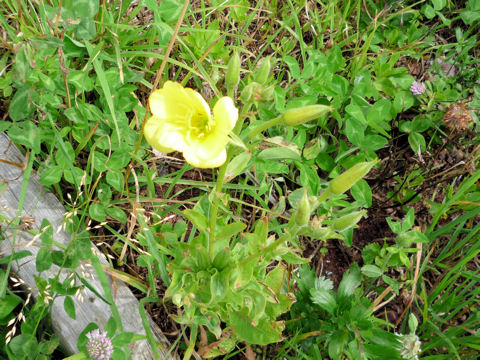 –kƒAƒƒŠƒJ'ªŒ´ŽY'Å'·A'킪''Ö'Í–¾Ž¡'ÌŒãŠú'É"n—ˆ'µ'Ü'µ'½B¡


'Å'ÍŠe'n'É‹A‰»'µ'Ä"¹'['â‰ÍŒ´'Ȃǂɐ¶'¦'Ä'¢'Ü'·B'VŒŽ'©'ç'XŒŽ'²


'ëA—[•û'©'ç—''©'É'©'¯'ĉ©F'¢‰Ô'ðç'©'¹'Ü'·B'S–‡'̉Ԃтç'Ì


ŠÔ'É'·'«ŠÔ'Ì' 'é'à'Ì'ðA"Á'Ɂu' '¿'ê'܂'悢'®'³v'Æ'µ'Ä‹æ•Ê'·'é


'±'Æ'à' 'è'Ü'·Bu'¨'¨'܂'悢'®'³v'É'æ'­Ž—'Ä'¢'Ü'·'ªAŒs'â‰ÊŽÀ'Ì


–Ñ'ª'â'â_'ç'©'­A–Ñ'ÌŠî•"'͐Ԃ­'È'è'Ü'¹'ñB'Ü'½‰Ô'ªˆÞ'ñ'Å'àÔ


'­'È'ç'È'¢'Ì'ª"Á'¥'Å'·B


ƒAƒJƒoƒi‰Èƒ}ƒcƒˆƒCƒOƒT'®'Ì"ñ"N''ŁAŠw–¼'Í Oenothera biennisB


‰p–¼'Í Evening primroseB


Evening primrose belongs to the Onagraceae (the Evening primrose family).


It is a biennial herb that is native to North America. This herb was


introduced into Japan in late Meiji Era (about 100 years ago). Nowadays it


is naturalized in so many places, and grows on roadsides or stream banks.


It produces yellow flowers from evening to dawn. It is resemble to Large-


flower'd evening primrose, though it is defined that the hairs on stems and


fruits are soft, not reddish at the bases and the petals do not turn in reddish


when faded.


[ã] ˆïéŒ§_²Žs–öì'ɂāA2007"N07ŒŽ12"úŽB‰eB


['†'P] '·–쌧ˆÉ"ߎs'‰"'¬ŸŠÔ'ɂāA2006"N09ŒŽ22"úŽB‰eB


['†'QE'†'R] '·–쌧–k'Š–Ø'º‹ž'ÌŠâ'ɂāA2005"N07ŒŽ09"úŽB‰eB


['†'S] Šò•ŒŒ§'ŽRŽs''ì'¬–ìX–"'ɂāA2004"N10ŒŽ30"úŽB‰eB


['†'T] Šò•ŒŒ§'ŽRŽs‰œ"ò'ˉ·ò‹½'ɂāA2007"N08ŒŽ01"úŽB‰eB


[‰º] –kŠC"¹–kŒ©Žsí˜C'¬uƒƒbƒJŒ´¶‰Ô‰€v'ɂāA


2009"N08ŒŽ04"úŽB‰eB(photo by Aya Nishizawa)