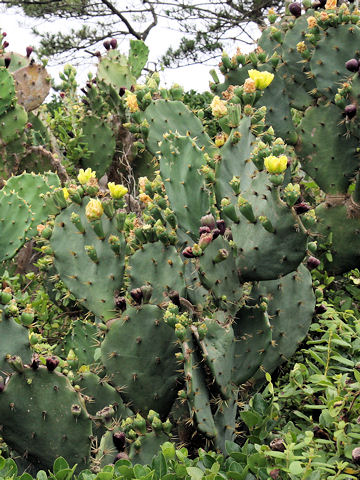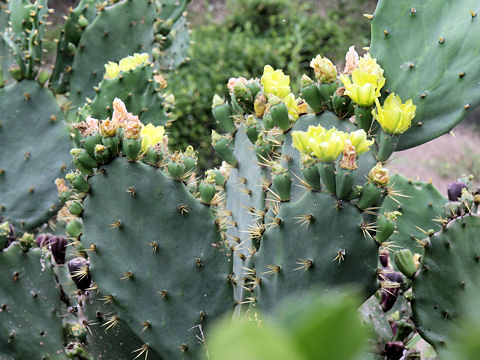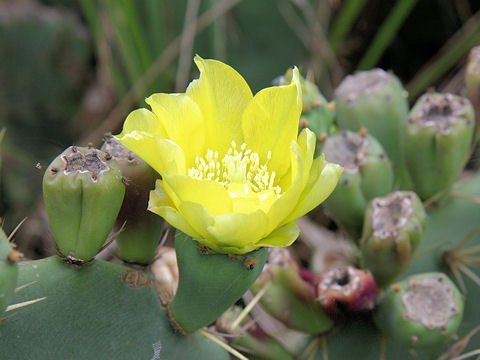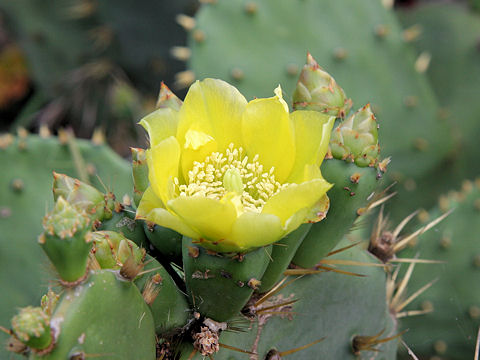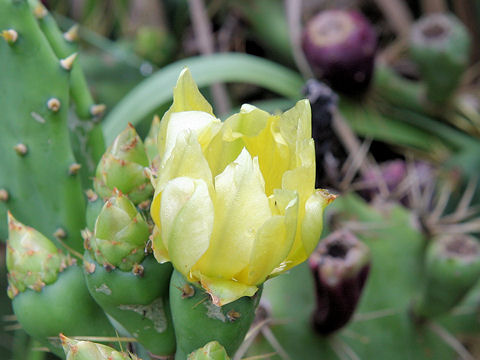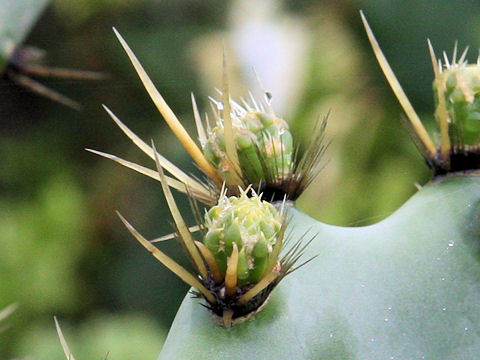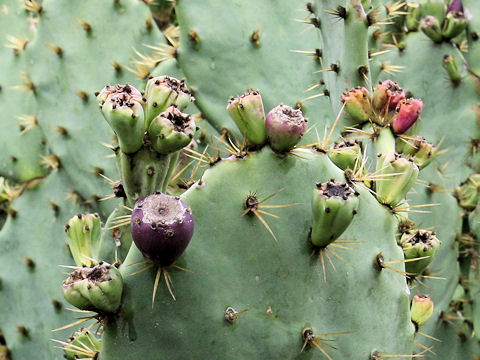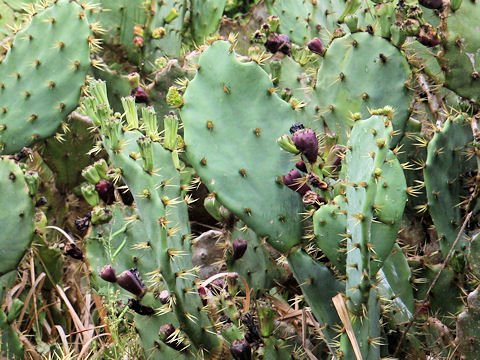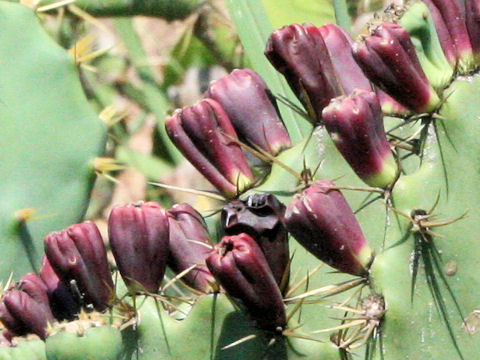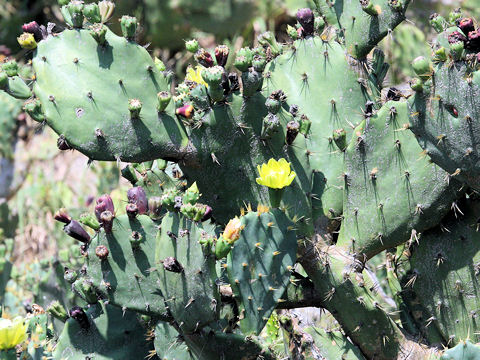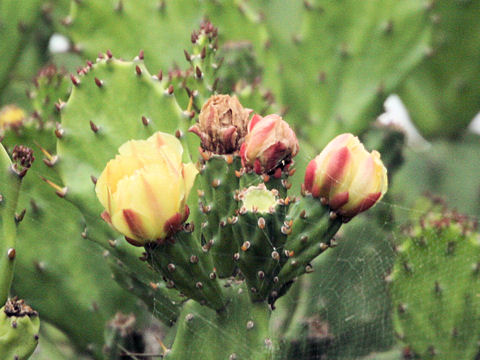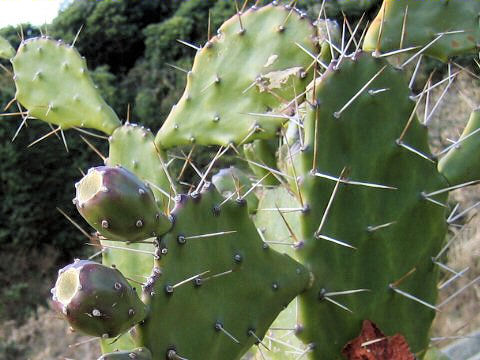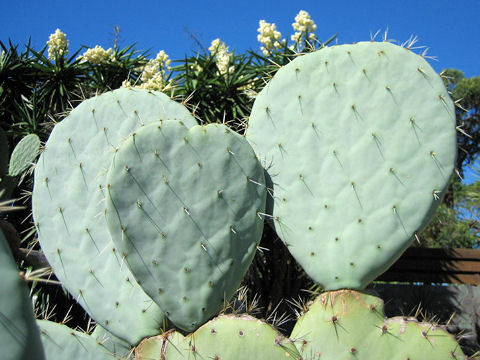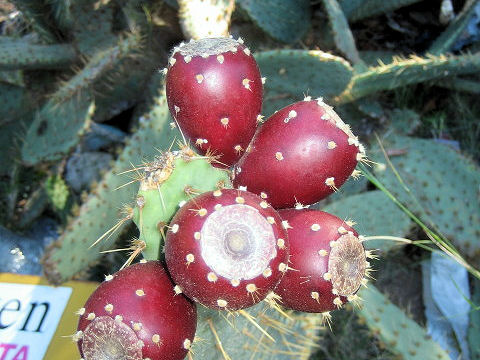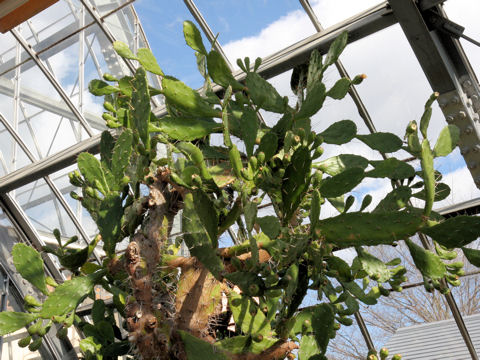 ƒAƒƒŠƒJ"쐼•"'©'烁ƒLƒVƒR'ªŒ´ŽY'Å'·BƒIƒvƒ"ƒeƒBƒA'®'É'Í'R'O'OŽí


'Ù'Ç' 'è'Ü'·'ªA'킪''Ö'à]ŒËŽž'ã'̏‰'ß'É'Í"n—ˆ'µ'Ä'¢'Ü'µ


'½B–{B'Ì'†•"'n•ûˆÈ"ì'̉·'g'È'Æ'±'ë'ł͐AÍ'³'ê'Ä'¢'Ü'·'ªA


'g'©'¢ŠCŠÝ‹ß'­'ł͖쐶‰»'µ'ÄŒQ—Ž'ðŒ`¬'µ'Ä'¢'Ü'·BŒsß'͝G•½


'ȑȉ~Œ`'ŁA'UŒŽ'©'ç'WŒŽ'²'ëA‰©F'¢‰Ô'ðç'©'¹'Ü'·B‰ÊŽÀ'͐Ԏ‡


F'ɏn'µ'ĐH—p'Æ'È'è'Ü'·B


ƒTƒ{ƒeƒ"‰ÈƒIƒvƒ"ƒeƒBƒA'®'Ì'cîƒTƒ{ƒeƒ"'ŁAŠw–¼'Í Opuntia sp.B


‰p–¼'Í OpuntiaB


Opuntia belongs to Cactaceae (the Cactus family). Opuntia genus contains


up to 300 species that is native to south-west USA and Mexico. It was


introduced into Japan in the early days of Edo Era (about 400 years ago).


This cuctus is planting at temperate areas southward from Chubu district of


Honshu, also naturalized in warm coastal areas and forms large clumps.


The segments are flat elliptic and bloom yellow flowers from June to


August. The fruits are edible berries and ripen reddish purple.


[ãE'†'P`'Q] ˆïéŒ§_²Žs'¾"cuŒ§Žw'èŒQ¶'nv'ɂāA


2008"N07ŒŽ20"úŽB‰eB


['†'R] "¯ã'ɂāA2008"N07ŒŽ15"úŽB‰eB


['†'S] "¯ã'ɂāA2008"N07ŒŽ08"úŽB‰eB


['†'T] "¯ã'ɂāA2008"N06ŒŽ06"úŽB‰eB


['†'UE'†'V] "¯ã'ɂāA2008"N05ŒŽ25"úŽB‰eB


['†'WE'†'X] "¯ã'ɂāA2009"N09ŒŽ16"úŽB‰eB


['†'P'T] "¯ã'ɂāA2010"N04ŒŽ09"úŽB‰eB


['†'P'O] ˆïéŒ§_²Žsu"gèŠCŠÝ»‹uA•¨Œö‰€v'ɂāA


2009"N09ŒŽ07"úŽB‰eB


['†'P'PE'†'P'Q] ˆ¤'mŒ§"cŒ´Žs"úo'¬uˆÉ—njΖ¦v'ɂāA


2004"N03ŒŽ07"úŽB‰eB


['†'P'R] ƒI[ƒXƒgƒ‰ƒŠƒAEƒVƒhƒj[Žsu‰¤—§A•¨‰€v'ɂāA


2008"N03ŒŽ02"úŽB‰eB(photo by Yumi Gunji)


['†'P'S] ƒXƒyƒCƒ"EƒoƒŒƒ"ƒVƒAŒ§ƒvƒ\ƒ‹'ɂāA2010"N10ŒŽ25"úŽB‰eB


(photo by Yumi Gunji)


[‰º] •Ÿ"‡Œ§'¢'í'«Žsu'¢'í'«Žsƒtƒ‰ƒ[ƒZƒ"ƒ^[v'ɂāA


2010"N01ŒŽ23"úŽB‰eB