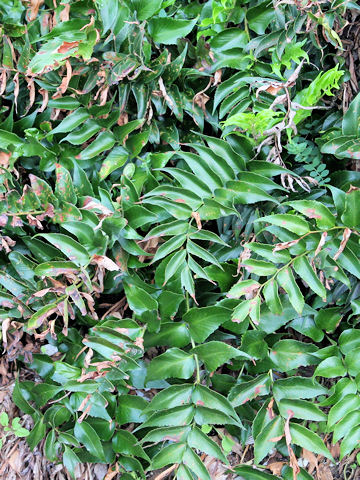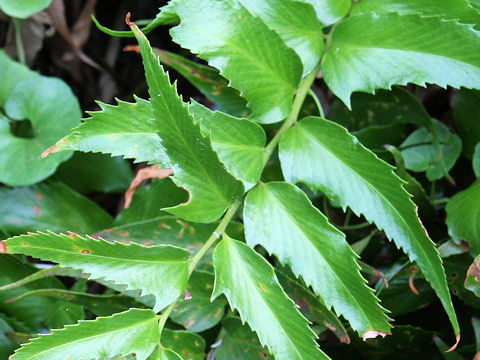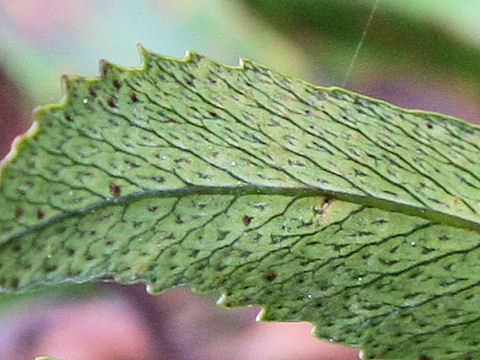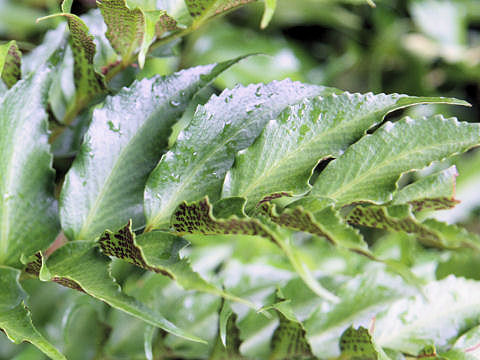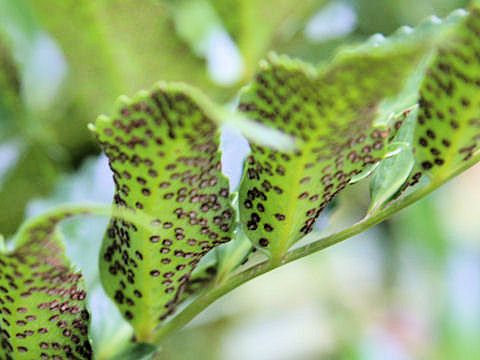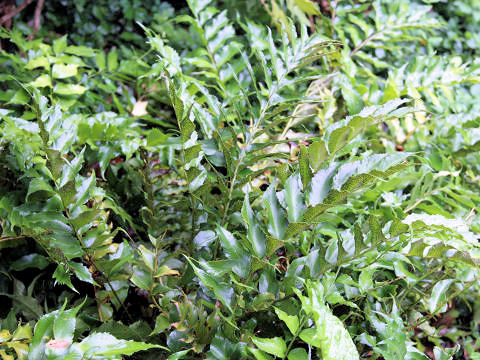 '킪''Ì–kŠC"¹"ì•"ˆÈ"ì'©'ç–{BAŽl'A‹ãB'»'ê'É"ŒƒAƒWƒA'âƒC


ƒ"ƒh'ɍL'­•ª•z'·'éu'¨'É'â'Ô'»'ÁiC. falcatumjv'Ì•ÏŽí'Å'·BŠCŠÝ


'ÌŠR'â"à—¤'Ì‹u—Ë'n'тɐ¶'¦A''³'Í'S'O`'U'OƒZƒ"ƒ`'É'È'è'Ü'·B


—t'Í'P‰ñ‰Hó•¡—t'ÅŒõ'ò'ª' 'èA'¤‰H•Ð'É•s‹K'¥'È‹˜Ž•'ª' 'é'Ì


'ª"Á'¥'Å'·Bƒ\[ƒ‰ƒX'Ì•ï–Œ'ÍŠD"'F'Å'†S•"'͍•F'Å'·B


ƒIƒVƒ_‰Èƒ"ƒuƒ\ƒeƒc'®'̏í—΃Vƒ_A•¨'ŁAŠw–¼'Í Cyrtomium


acutidensB‰p–¼'Í Holly fernB


Holly fern (Cyrtomium acutidens) belongs to Polypodiaceae (Polypody


family). It is an evergreen fern that is a variety of 'Holly fern' (Cyrtomium


falcatum); distributed southward from southern Hokkaido to Honshu,


Shikoku, Kyushu of Japan, East Asia and India. This fern occurs in coastal


cliffs or inland hillsides and can reach 40-60 cm in height. The leaves are


pinnate compound and glossy with irregular toothed edges. The indusium of


sorus is gray and has black center.


[ãE'†'P`'Q] ç—tŒ§'¶ŽqŽsuŒ¢–iév'ɂāA2007"N10ŒŽ11"úŽB‰eB


['†'R`'SE‰º] ƒAƒƒŠƒJEƒeƒLƒTƒXBuƒtƒH[ƒgƒ[ƒXA•¨‰€v'ɂāA


2006"N04ŒŽ29"úŽB‰eB(photo by Jon Suehiro)